Campbell Scientific Software
Software has become an important part of the data collection and control system industry over the last few years. With the increased use of the Internet and the convenience of sharing data over networks there have been very useful advances in the software that we sell and support.
You can select from the software options listed here or contact us for assistance on choosing the best software to meet your needs. All the software packages below are designed to work with the Campbell Scientific datalogging devices, this software is not designed to work with other dataloggers or data collection systems.
Publish Data to the Web or view real-time data on a PC.
Get your data into a Database.
---

PC200W Starter Software

Download PC200W

PC200W is a free starter software package designed for first-time users or users with simple data communication needs; it provides basic tools (clock set, program download, monitor data, retrieve data, etc.). PC200W supports direct connections between a PC and datalogger (no telecommunications or scheduled data-collection support).

After a program is created with our Short Cut Program Generator (included), PC200W is typically used to download the program to the datalogger.

PC200W Benefits:

Provides basic tools (clock set, program download, monitor measurements, retrieve data, terminal emulation, etc.)
Compatible with most Campbell Scientific dataloggers
Communicates with mixed-array, table, and PakBus® datalogger operating systems
Can be downloaded free of charge (see Downloads link on the Support tab)

PC400 Starter Software

PC400 is Campbell Scientific's mid-level datalogger support software. This versatile software supports a variety of telecommunication options, manual data collection, and data display. PC400 includes an easy-to-use program generator (Short Cut) as well as full-featured program editors (CRBasic, Edlog).

PC400 does not support combined communication options (e.g., phone-to-RF), PakBus® routing, or scheduled data collection; LoggerNet software is recommended for applications that require those capabilities.

PC400 Benefits:

EZSetup Wizard for easier station setup
Support for our CR200-series, CR510, CR800/850, CR10, CR10X, CR1000, 21X, CR23X, CR7, CR3000, CR5000, CR9000, and CR9000X dataloggers with mixed-array, table-data, or PakBus® datalogger operating systems
ShortCut, Edlog, and CRBasic programming tools used to create/edit datalogger programs that measure sensors and control SDM devices, multiplexers, and relays
Data retrieval via direct connect, phone modems, Ethernet, radios (UHF, VHF or spread spectrum), or multidrop modems
Real-time or historic data displays
Time-series graphs for unlimited elements from a data file
Troubleshooting tools (terminal emulator and communications log)
Device Configuration Utility for setting up Campbell Scientific hardware

LoggerNet Software

Download Trial

Updates and patches to LoggerNet software
click here

LoggerNet is our main datalogger support software package. It supports programming, communication, and data retrieval between dataloggers and a PC.

LoggerNet consists of a server application and several client applications integrated into a single product. It can support connection to a single datalogger, but is especially adept in applications that require telecommunications or scheduled data retrieval used in large datalogger networks.

Version 4 is our recent major upgrade to LoggerNet that features a new tool for designing and configuring PakBus® networks, a more powerful file viewer, an upgrade to RTMC, a redesigned toolbar, and many updates to existing clients. Learn more about the upgrade in the brochure and manual linked at right.

LoggerNet Benefits:

Creates custom datalogger programs using Edlog or CRBasic
Displays or graphs real-time or historic data
Builds custom display screens to view data or control flags/ports
Retrieves data using any of our telecommunication options
Processes data files using Split
Saves data in formats (including CSV and XML) that can be imported into third-party analysis packages

iPad, iPhone and Android Apps

LoggerLink Information
Click Here

Software for Mobile Devices Click Here


LoggerLink, PConnect, PConnectCE

Campbell Scientific offers software packages that allow dataloggers to communicate with a user-supplied personal handheld devices (PDAs) or iPhone, iPad and Android device. This software performs simple on-site functions such as transferring datalogger programs, monitoring real-time data, controlling datalogger ports and flags, and graphing historical data. While our PDA and App software does not support all of the functions of LoggerNet or RTDAQ, they can be helpful tools to keep in your Campbell tool box.

LoggerLink Mobile Apps are simple yet powerful tools that allow an iOS or Android device to communicate with IP-enabled dataloggers (CR200X, CR800, CR850, CR1000, CR3000). The apps support field maintenance tasks such as viewing and collecting data, setting the clock, and downloading programs.

LoggerLink mobile apps are purchased through the Apple Store or Google Play.

PConnect software supports communications between a Palm OS-based PDA and a Campbell Scientific datalogger. PConnect allows you to carry only your PDA and cables instead of a laptop computer to interface with your datalogger and collect your data. Using PConnect, you can collect data from a datalogger, display or graph collected data, view current measurements, transfer datalogger programs to or from the datalogger, and perform real-time functions such as setting the datalogger's flags, ports, or clock.

PConnectCE software supports communications between a Campbell Scientific datalogger and a PocketPC or Windows Mobile device. PConnectCE allows you to go into the field carrying only your PDA and cables instead of having to lug a laptop computer to communicate with your datalogger and collect your data. Using PConnectCE, you can collect data from a datalogger, display or graph collected data, view current measurements, transfer datalogger programs to or from the datalogger, and perform real-time functions such as setting the datalogger's flags, ports, or clock.

Bluetooth Communication
A third-party Bluetooth serial adapter is required. The interface and/or cables that are used to connect the adapter to the datalogger will vary, depending upon whether the device acts like a DTE (computer) device or DCE (PDA) device. In some instances, this is evident by the pin-out of the adapter, but not always. A general rule is if the adapter has a 9-pin female connector, then the adapter is connected to the datalogger using the PDA-to-CS I/O connector for the CS I/O port or the PDA-to-RS232 cable for the RS-232 port. If the adapter has a 9-pin male connector, then the adapter is connected to the datalogger using an SC32B for the CS I/O port or it can be connected directly to the RS-232 port.
---
Graphical & Web Data Software

RTMC Pro Software

RTMC Pro (Real-Time Monitoring and Control) software is used to create and run graphical screens that provide real-time monitor and control capabilities. This separately-purchased product is an enhanced version of the RTMC client included with LoggerNet and RTDAQ. RTMC Pro contains more of the graphical components found in RTMC. For example, more alarms, switches, graphs, gauges, and layout components are available.

RTMC Pro can be used as an HMI software in SCADA applications that use the Campbell Scientific dataloggers as RTU or PLC controllers. Combine it with the LoggerNet Database software to create a data backup and data display package.

RTMC Pro also makes it possible to post images to a Web site and send emails or cellular texts based upon alarms.

There are are other options for posting and viewing data on the Web.
---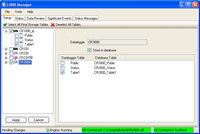 LNDB is a application that enables you to easily move data from a LoggerNet data cache into a database such as Microsoft SQL Server or MySQL. Then you can use industry-standard software to access and query your data for reports. LNDB also comes with QuickReports, an application that allows you to generate simple reports from an LNDB database with just a few mouse clicks.
LNDB Benefits
Moves data from selected LoggerNet tables into a database
Imports data from a data file into a database table
Exports data from a database table into a data file
Includes QuickReports application to design simple reports from an LNDB database
Allows you to review database data
Monitors the LNDB Engine